BBT&T is optimized for Firefox, but will also work in other browsers. It just may not look as good!
Free Agency is over and some faces are playing in some new places. Shop the NBA Store by Player
BBT&T, SBI, and Affiliate Marketing
***Up to a $50 Rebate Offer on SBI! Below***
Order SBI! from BBT&T and get up to $50 Off! Just fill out the Form @ the Buttom of this Page.
---
See my SBI Success Story Below & Try it Free for 90 Days!...
Useful SBI! Links
This page is about what SBI! has done for me so far. Below is my story of how I came to use SBI to build this site and grew to love SBI because of my success in building a website that brings me some extra income. SBI! isn't for "getting rich quick", it's an investment in your future financial comfort. That's why they've increased their free trial period to 90 days (previously 30 days). SBI! has done such a great job of putting together what they can do for you, though, that I've also included a number of their links in the box on the right that you should definitely check out.
What SBI! has done for me so far:
Showed me how to create a succesful webpage/website.
Hosts the website.
Helps me to have a more succesful website by helping improve my page rankings in the search engines.
Gives me somewhere that my affiliate marketing can be seen.
Added a 2nd Source of income to help me on my way to financial freedom.
You can find out more about building a website here.
SBI! isn't for everyone, so take your time, check out my story and explore the links in the box. It's not a decision that needs be made right away. You can bookmark this page, discuss it with your friends and family, and if you decide it's right for you, make sure to come back here to claim your rebate! Also keep in mind that they now let you try it out for 90 days! What do you have to lose? If it's not for you, then at least you've weighed the options and bookmarked this page in case you decide to re-examine your situation later. Like I said, it's not for everyone, so at least now you know!
My SBI! Success Story
As you well know by now, my passion is basketball. I love playing it, watching it, and giving others advice on it. That's part of how BBT&T came to be. But I've got to confess, the main reason BBT&T came to be is because I wanted to make a little extra cash.
Again, don't get me wrong, I absolutely LOVE developing BBT&T and continuing to provide free basketball tips to everyone out there. Affiliate marketing was involved to, however.
You see, I had been laid off right after graduating with my Master's Degree, and was kind of "caught" in the middle, having difficulties landing a job in my field for a while. As the bills started piling up, I started getting desperate and bought some "too good to be true" work at home programs. Guess what...they were too good to be true.
I was very disappointed in the "programs" that I paid for. They basically just wanted you to sell the same product you just bought (and were disappointed in). First of all, I just couldn't promote something that I wasn't happy with, so refused to do so. Second, I didn't really have a way to promote the product even if I wanted to.
So what's this have to do with Basketball-Tips-and-Training.com? In trying to find ways to help catch up on the bills, I finally came across Site Build It (SBI!). They helped me realize, "Hey, I love basketball and know a lot about it, I could easily build a website about it."
Then, since I've used a lot of training products and know a lot about basketball and its equipment, I could find affiliate programs for basketball training equipment and legitimately make recommendations since I've either used the product or know a lot about how it could improve someone's basketball skills.
So, What Has SBI! done for me lately?...
Helped me Create a Website (and Hosts it)
First thing, if you looked at my "about" page, you noticed that I have no background whatsoever in web design, computer programming, HTML, etc. Before SBI, I hadn't even attempted to create a website or webpage. Site Build It gave me easy to follow instructions and made the work a lot easier.
I keep learning as I go, to: If you've browsed BBT&T, you've probably noticed that some pages aren't designed exactly the same as this one. That's because I started out simple (with SBI block by block builder) and moved on to more complex designs as I learned more. SBI! used to only offer a two-column template, but now they offer a 3-column template much like this page.
Perhaps the best thing about SBI!, though, is that they host your website, to. It's not like other template-driven hosting sites that don't give you your own domain, it just means that you select your domain with SBI, and they will host it for you (yes, the website hosting IS included in the price already. I say this because hosting is expensive alone, so it just adds to the value of SBI. I have to mention now, to, that SBI has increased their trial period from 30 days all the way to 90 days, so you can try it out for real and see if it's for you!
This doesn't mean that ALL other sites aren't also good, I just have experience with SBI! and am very happy with it! Sites like Go Daddy have more robust packages available as well, but their commercials only really advertise the bare minimum domain name cost w/o hosting, etc. You can check out Go Daddy and SBI with the links below.
This was just a quick overview, for more on building your own website, go here.

Improved Page Rank (and Visibility)
The next thing that SBI! does for you is to help you build a succesful website by improving your visibility. It helps you to get better page ranks. Basketball-tips-and-training.com has a number of pages in the top 30, many in the top 10, and even some in the top 5.
Here's a few examples:
Last Updated 11/01/13.
I should point out, though, that this definitely didn't happen overnight. It takes some time and work to build a website (a succesful one, at least), and some patience. These pages weren't ranked at all at first. Then, without any changes, they continued to climb up the rankings. All I did was follow some advice from SBI (such as getting inbound links), to help improve my rankings. These actions were all FREE and just took a little bit of my time.
This improved visibility brings me to my next point: Improved Affiliate Marketing...
Become a More Succesful Affiliate Marketer
Even if you're not really interested in building your own website, you should check out the FREE Affiliate Master's Course by clicking on the link below. It is well worth the look!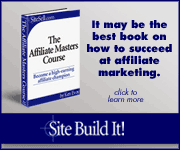 Improved visibility helps you to become more succesful at affiliate marketing. Why? Because your affiliate links are more visible to your prospective customers: If you've looked into affiliate marketing and possibly been burned like I have, you know that you need to be able to get your links out there. The problem is, though, that if you don't have a website of your own or a lot of money already, you probably can't.
There's always PPC adverstising, but that costs money and can become very expensive if you're not careful. This can actually be effective, but those more succesful with it spend a lot of money to be succesful. That's why I chose to build my own website about basketball: I don't have a lot of money to spend, and I can recommend basketball products because I know something about them and will have a more targeted audience since that's who's looking at my website.
On top of the added visibility, you can also get accepted into better, more well-known, affiliate programs that require your website to be fairly succesful before allowing you to display their links. For example, when I first started basketball-tips-and-training.com, I wanted to be an NBAStore.com
affiliate. When I first applied, though, I was declined due to lack of traffic to my website. Now, though, I am able to make commissions off of the official store of the NBA because SBI! improved my website rankings and traffic. And, of course, due to the name of NBAStore.com
, it is my top producing affiliate program.
Added a Decent Second Source of Income
Finally, what you've probably waiting to hear is that yes, I do make some extra cash with SBI! Notice that I say a second source of income, though. This is not a get-rich-quick item. You have to invest some time and effort into your website to make it succesful and help you to reach financial freedom. I'm making some extra money with BBT&T, but I'm still working full-time. I'll be honest and say that I haven't reached it yet, but my goal is to make $500+ a month on BBT&T, which is very attainable. The extra money I make does help me to have a much more comfortable life, though.

So, if you want to give it a try, I'll even help you out. Check out the rebate offer below...
---
$50 Rebate if you order SBI! through Basketball-Tips-and-Training.com


Order SBI! and try it out free for 90 days. If after 90 days you do not cancel your SBI! subscription, I will send you a PayPal payment or check for $50*! (if you make full payment - $50 Rebate; $5 Rebate if you pay monthly) - Start your road to financial freedom with some extra income by ordering SBI! and Register your order to claim your rebate through the form below.

---
$50 Rebate does not apply if monthly payment option ($29.99/mo) is selected or if you do not order SBI! through Basketballl-tips-and-training.com. Because of SBI's Commission Structure, a $5 Rebate applies to Monthly Payment Orders. Rebate only applied once for Buy One, Get One Free orders.
NOTE: Rebate only valid if SBI! ordered through Basketball-Tips-and-Training.com

Order SBI! here
---
Make Your Own Website
Find out more about using SBI! to make you own website.